Top 140 Investment Companies Benefits
Put your Clickable Color Logo and Custom message (*) in front $4.8 Billion retail investors and broker traffic value.
Based on the directory information they are looking at, many of these retail investors and brokers are in the buying cycle.
For Investment companies the mutualfunddirectory.org traffic is:
Highly-targeted | The information is only of interest to retail investors and brokers looking to make a change.
Highly valuable | The gross profit per median conversion is $5,859 and a $103,000 median portfolio.
Unique | 47,000 unique visitors per year (retail investors and brokers many are looking to make change)
and many of which are the buying cycle based on content on the directory
In other words | Your Company's Perfect Traffic | Your marketing Team's dream traffic.
All you need to do is add your clickable color logo and your custom message to stand out on the industry's absolute #1 mutual fund company directory in organic search in the world. In 2022 and since 2011.
(*) We live in oa FINRA world. All message changes need to be approved by your compliance officer and FINRA. But you already knew that.
A Massive and Unforeseen Benefit to putting your clickable color logo and message in front of $4.8 Billion in potential business.
If putting your clickable logo and custom message in front of $4.8 Billion in potential business was not enough,
once your TV marketing staff AND your PPC marketing staff understand this they will LOVE (I do mean love) this tactic.

Why? This solution partially fixes a seldom recognized marketing funnel leakage problem with no additional effort by either TV marketing staff or PPC marketing staff.

Their TV AND PPC ROI/ROAS increases with no additional effort on their part for just a mere monthly charge of $1,800 per month.
You got that right:
We fix a funnel leakage problem that pays for itself many times over per month,
AND we put your clickable color logo and PR message in front of $4.8 Billion in retail investors and brokers
all for just $1,800 per month.
Based on industry metrics in terms of gross profit (A-Shares), if we can help your firm sell just 120 median new portfolios per year out of 47.000 AND the fix your TV and PPC leakage issue, then your ROI is more than your 4,100%.
So now you want to know if you have the funnel leakage and what is it? Just set up a call at mike@mutualfundmarketingservices.com or click on the "calendly button."
How the directory gets the traffic
We rank the top 140 investment companies by Assets Under Management each quarter to help retail investors and brokers with their due diligence when looking to make a change or check up on their existing company.
On each company listing line, we provide the latest news on each company on one website for convenience to the retail investors and brokers. 
The readers of our macroeconomic blogs like the expected knack for connecting the dots of various data points into clear investor macroeconomic usable information since 2011. Our voice and niche are insightful macroeconomic investor information. Domestic politics not directly discussed. We stay in our lane.
Since COVID our traffic has more than doubled.
Leverage our ultra-targeted retail investor and brokers traffic
Put your brand and message in front of the people who matter when there is a good chance they are in the buying cycle based on their motivation of researching the information mix offered on the directory.
By design, the only two reasons for retail investors or brokers to be on this #1 ranked industry directory is:
if the retail investor or broker is looking to make a change
or checking up on their existing company.

Either way, this is extremely valuable and near-perfect traffic for your investment company to easily leverage by just adding your color logo and message to your existing listing line.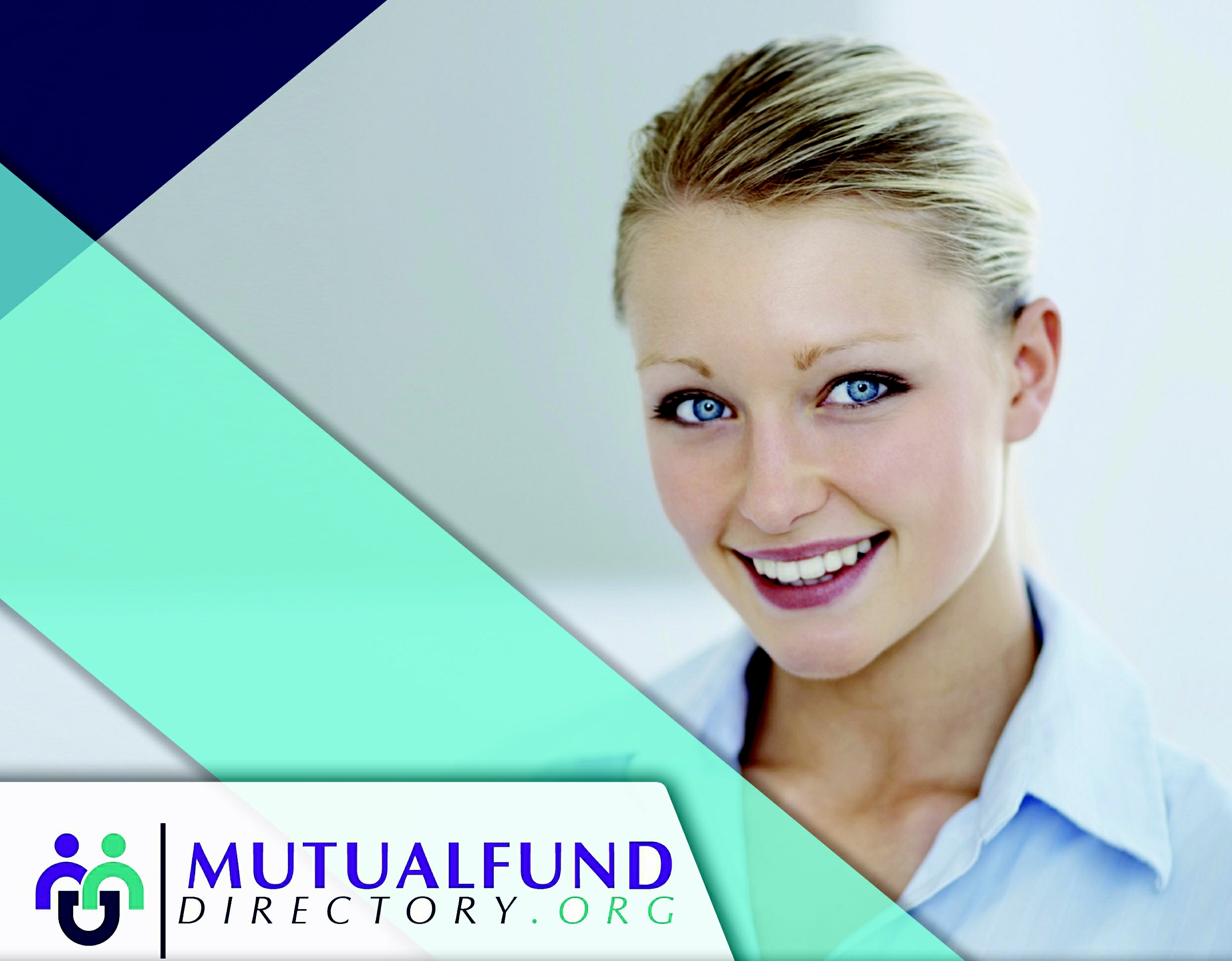 Four Investment Company 2022 Challenges  Video | Click Below
Four 2022 Challenges for Investment Companies
Mutual Fund Directory Benefits and Details | (20.7 minutes Length – above)
Worthwhile and Excellent Info for any Marketing Manager, PR Staff, Sales Management, Brokers and Executives in any Investment Company or Mutual Fund Company
Mutual Fund Directory Video Overview (3:31 short | above)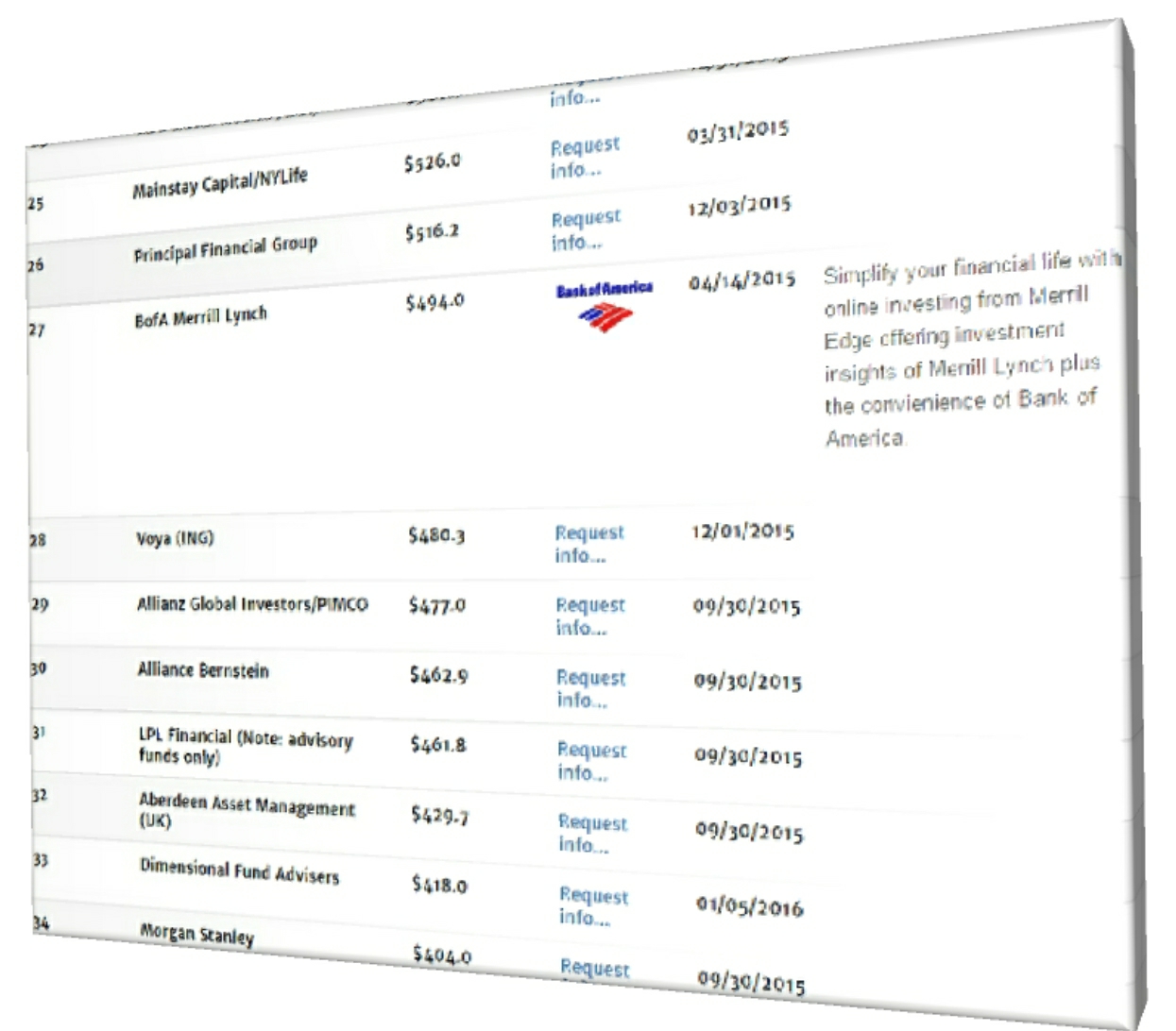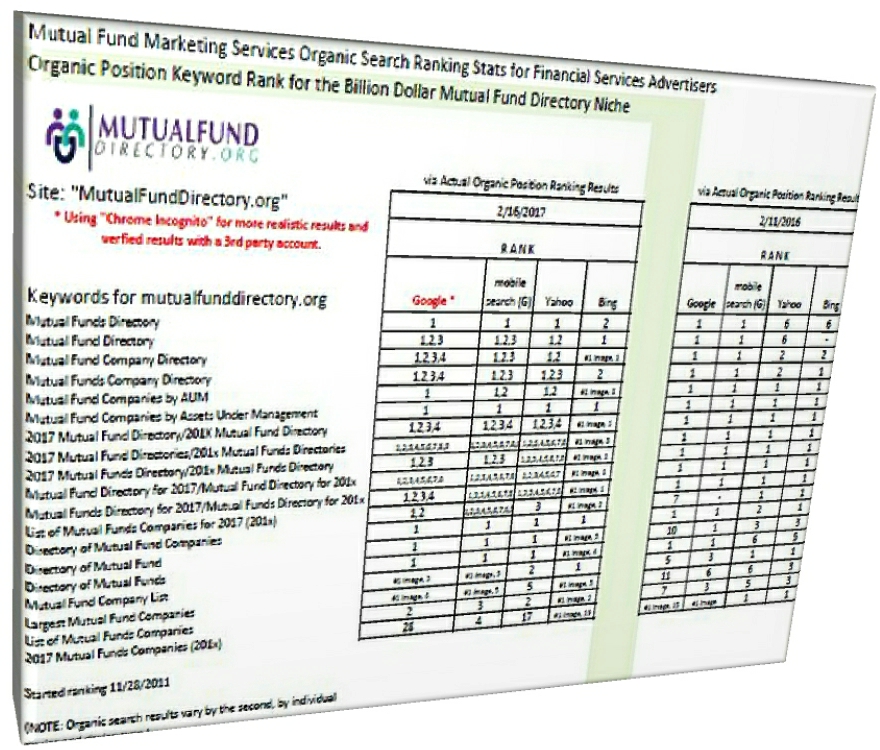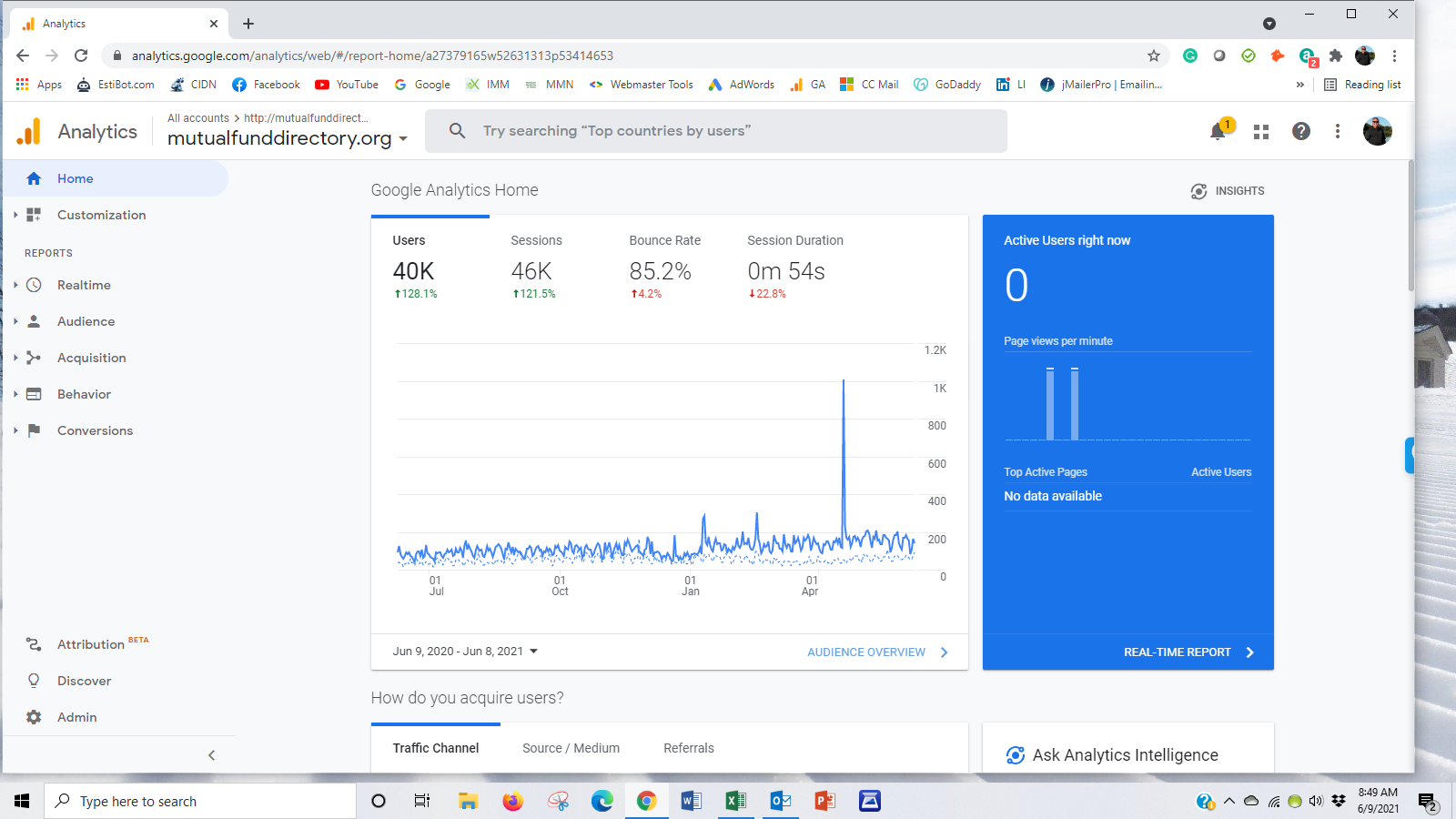 "Here is an easy solution to help make your firm's 2022 and 2023 growth numbers
————————————
Add this to your 2022 and 2023 Marketing Plan"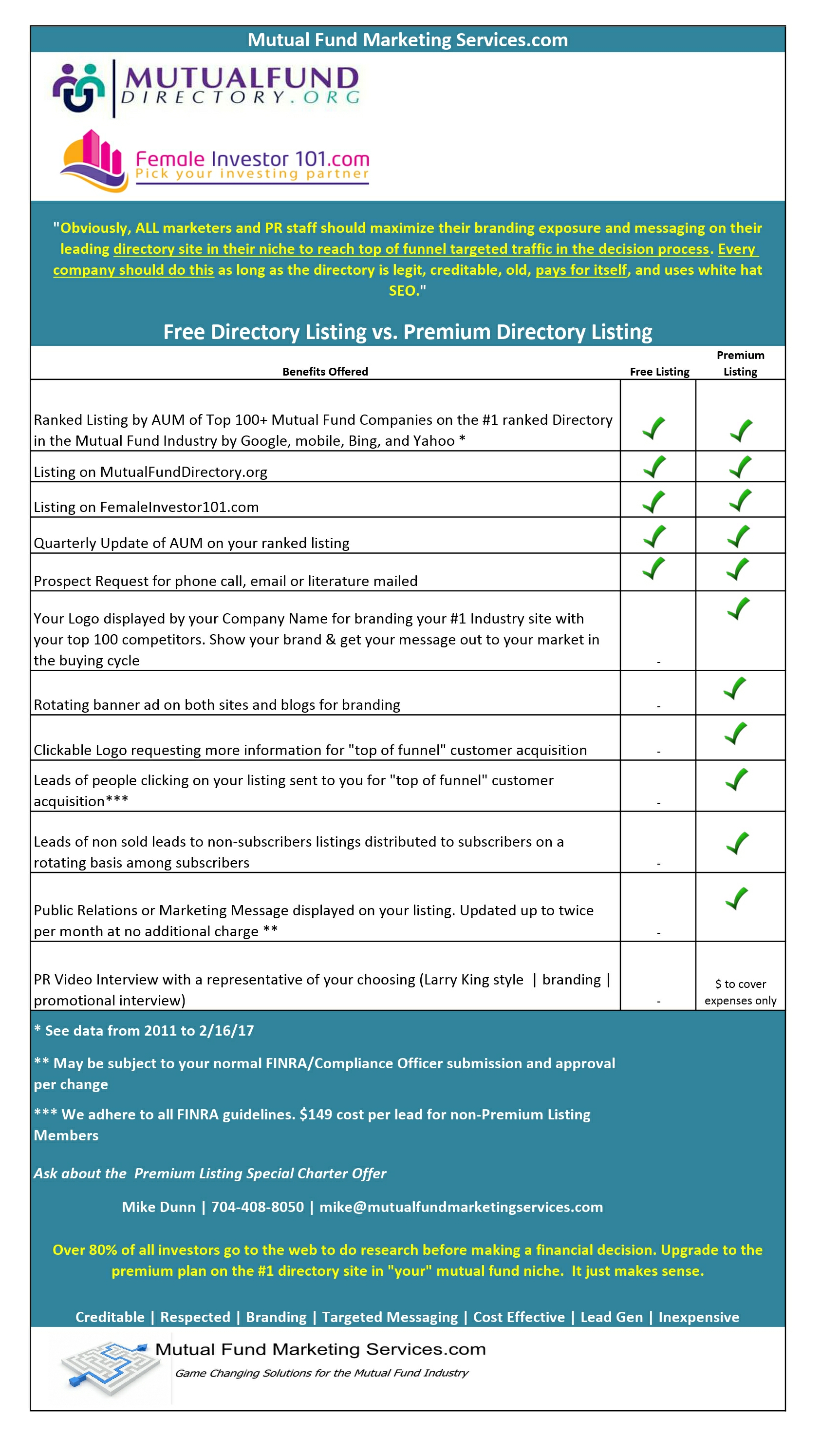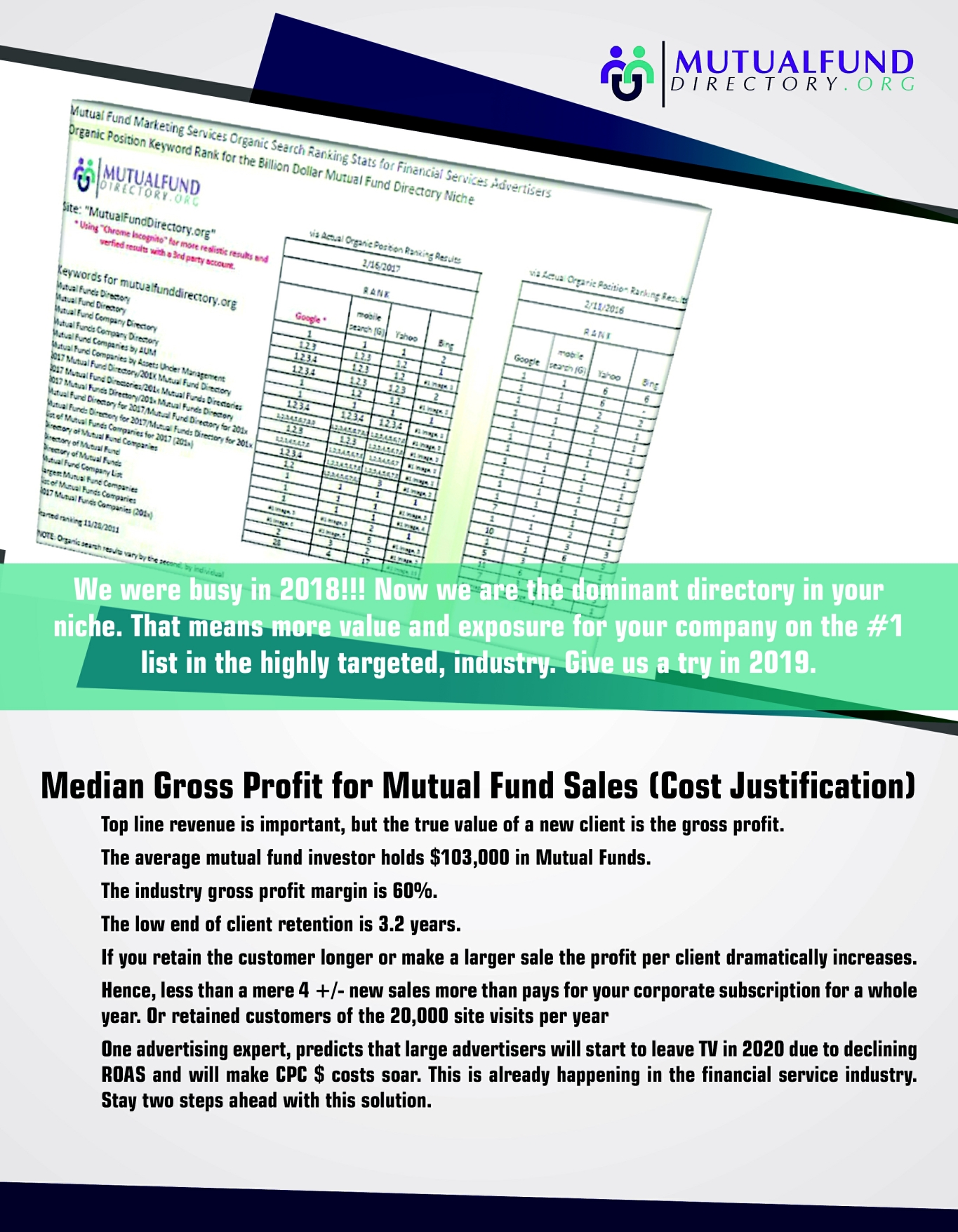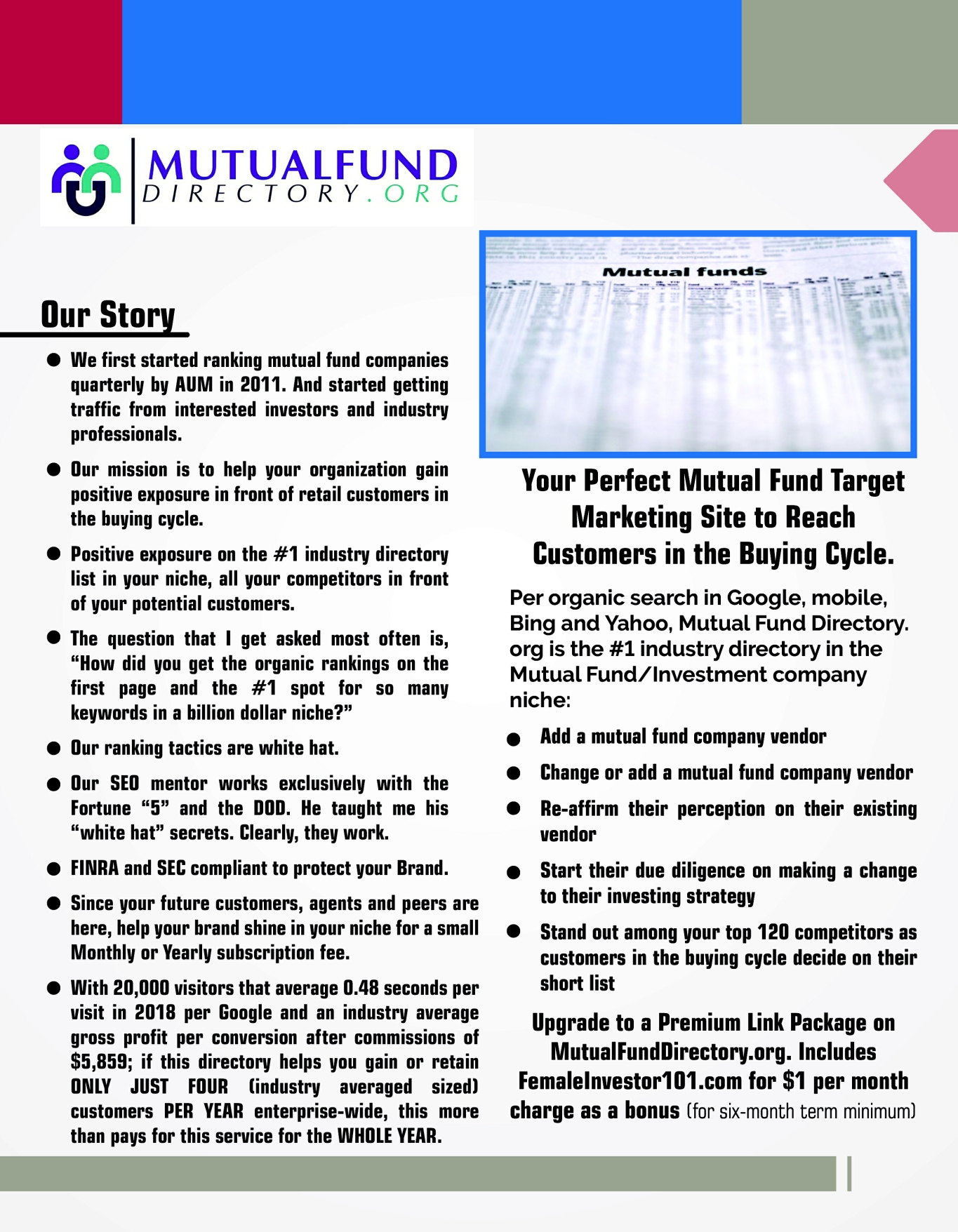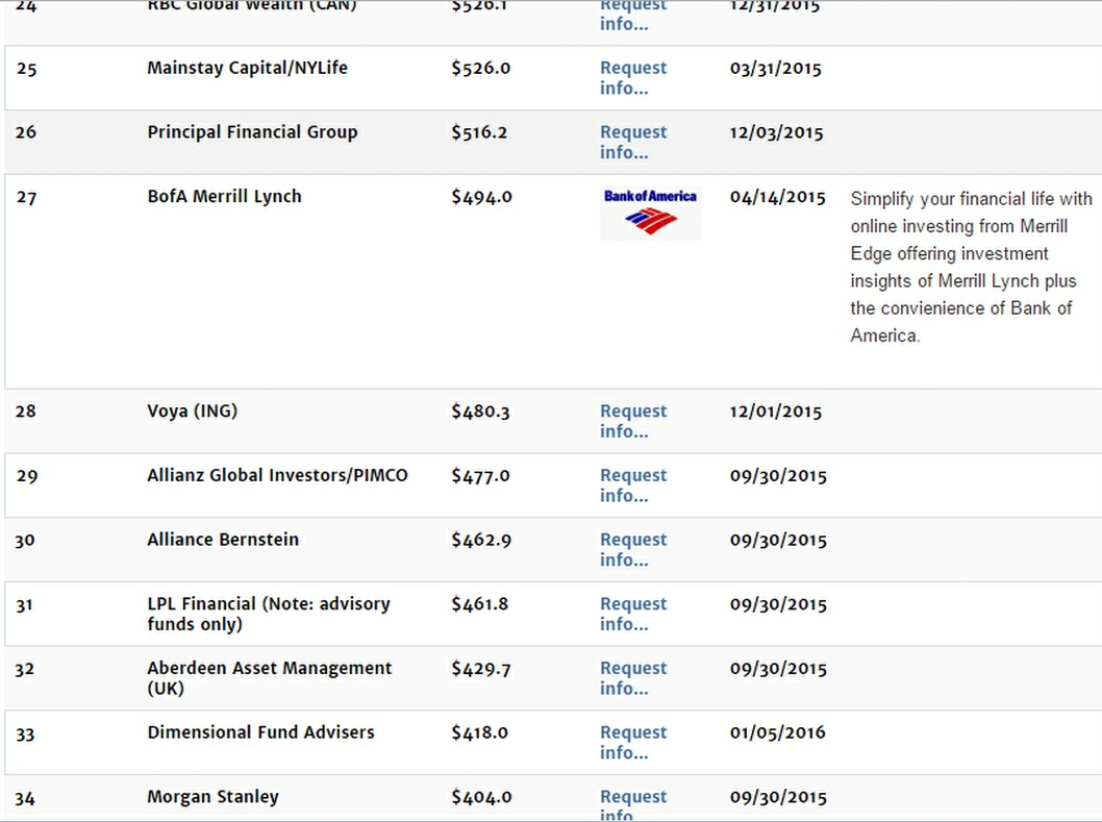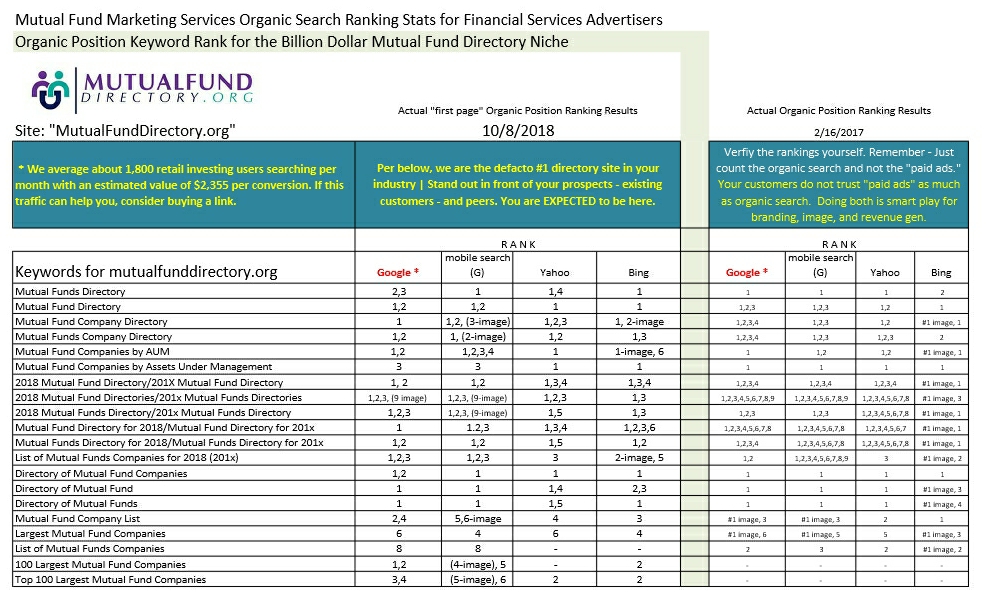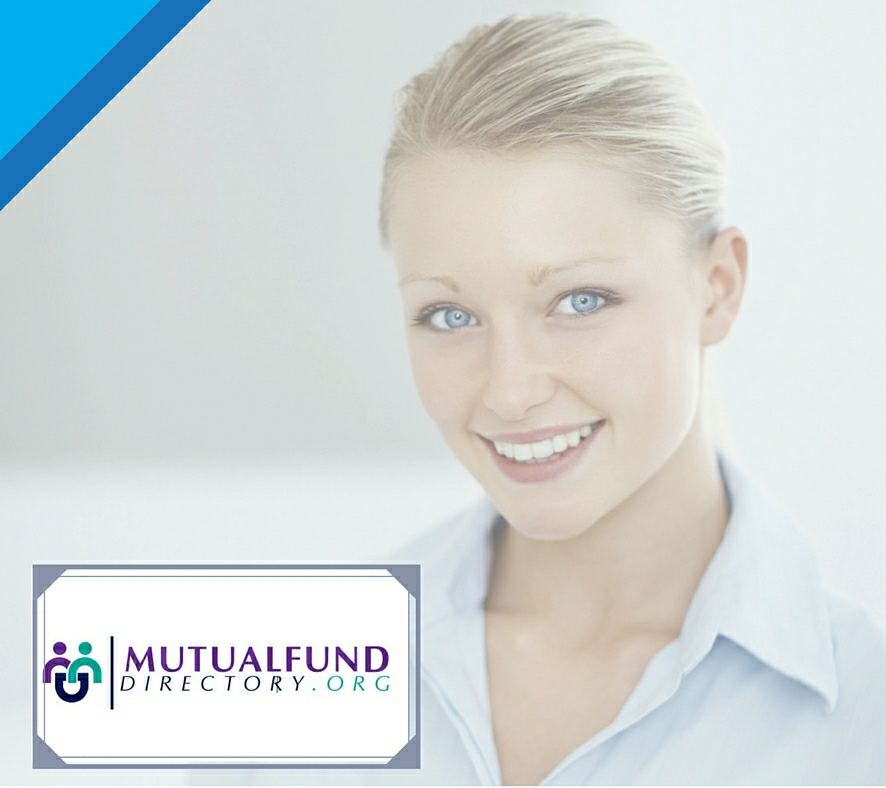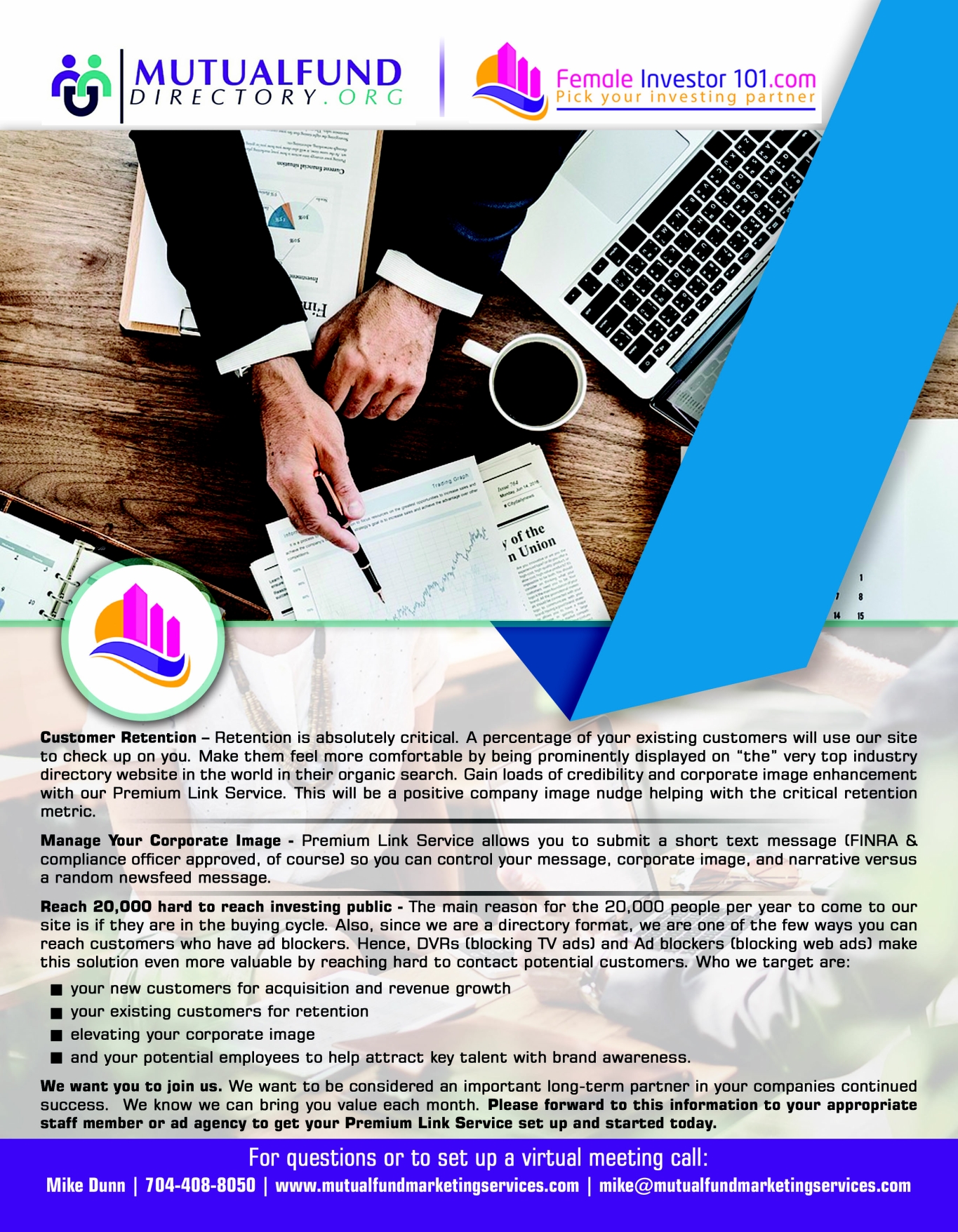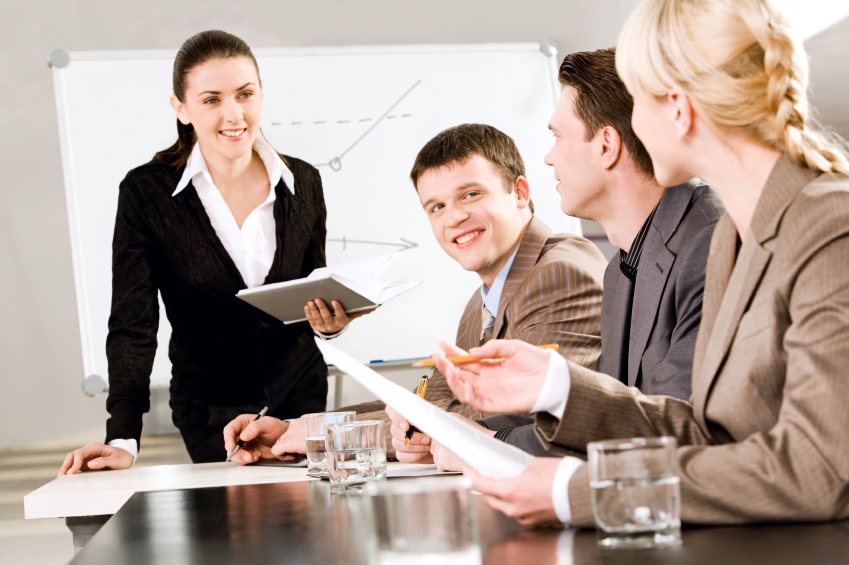 We comply with all FINRA regulations. Specifically, we do not receive nor accept compensation for purchase actions by customers. These sites promote the selection of mutual fund companies by retail investors – not the funds or other investments products offered by the companies.
FINRA regulatory notice 10-06 requires "static" messages to be submitted to the normal 10-day FINRA/Mutual Fund advertising process for banner advertisements and the 50+/- character message.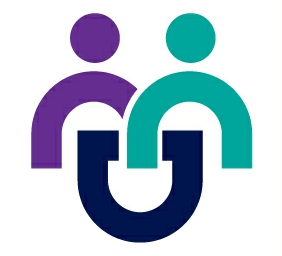 This website adheres to US Securities and Exchange Commission – Section 202(a)(11)(A)-(E). We comply with all SEC rules and regulations.