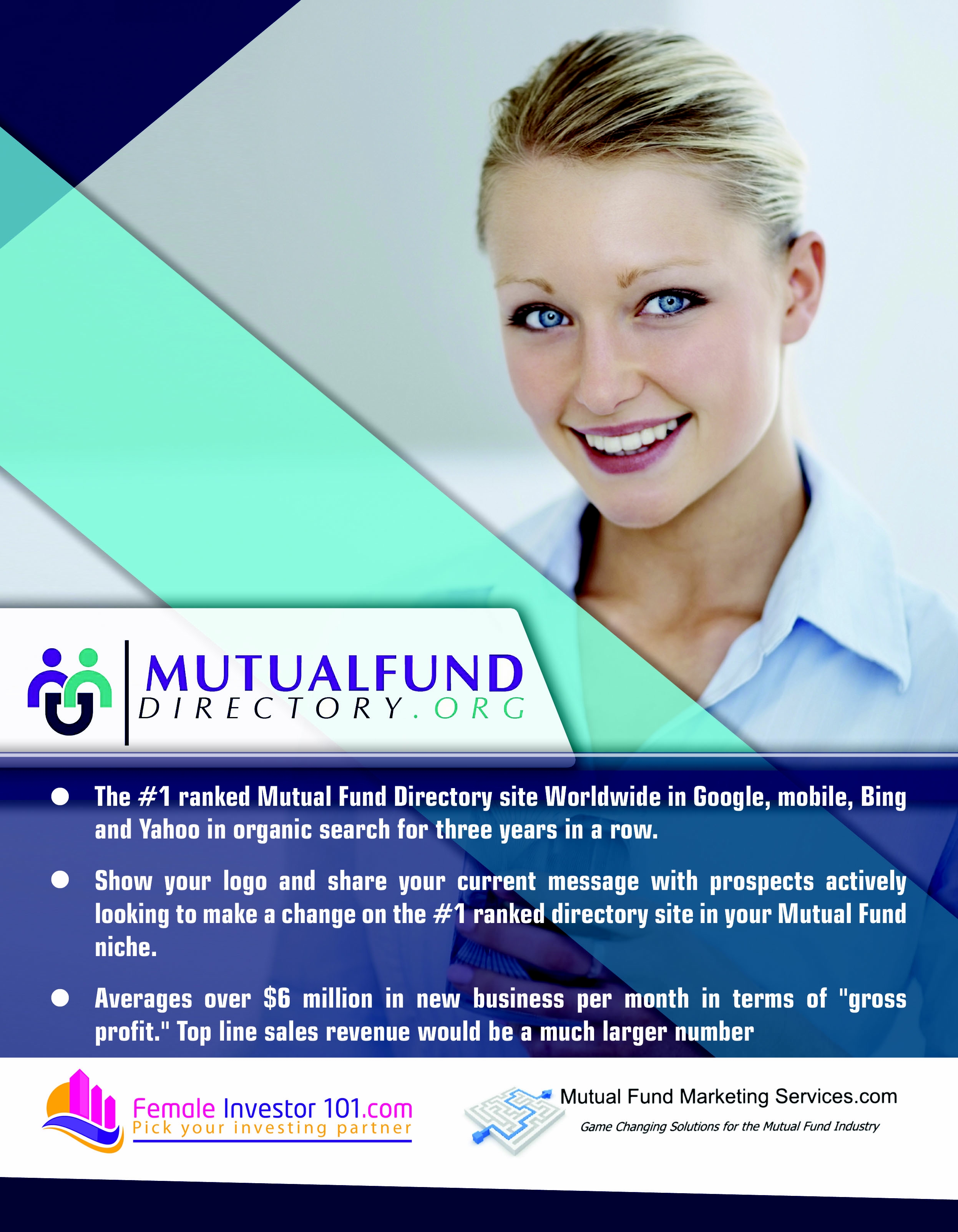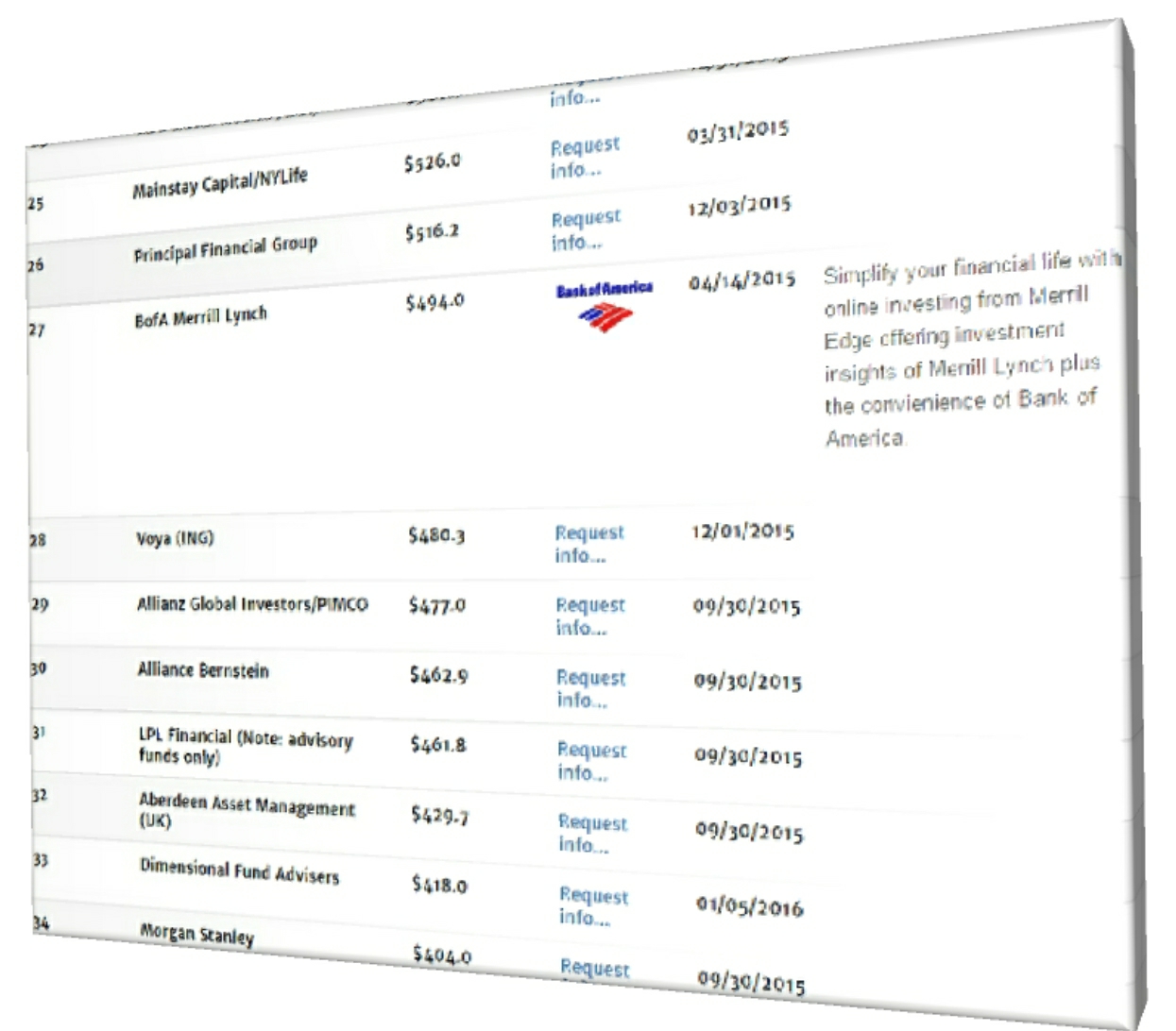 Value Proposition for www.mutualfunddirectory.org Premium Link Service for 2019
M

utualFundDirectory.org is the defacto #1 ranked industry directory in the Mutual Fund Niche worldwide

per Google, Mobile, Bing, and Yahoo for the past 5 years and counting. 

Nearly ALL of your potential investors will research the web on your company before investing with you. The most logical place to start is the industry directory. That is us.

www.mutualfunddirectory.org.
Nearly all retail investors on this site are either in the decision-making process or checking up on their existing investing company. That is the only reason to be on this site. That is why this traffic is so valuable. For both acquisition and retention reasons, your company should strongly consider maximizing your efforts on this directory with our Premium Advertising Service. Give this a try in 2019. This is YOUR industry directory. Simply, your company needs to be here.

Your advertising or your representative's cold call is the first step in the sales funnel. We are the 2nd step in the funnel – independent confirmation on the leading mutual fund industry directory website. Let our Premium Advertising Service help you move your prospect to the next step in the funnel. That is our value to you.

We get 20,000 over organic (mutual 

fund / investment

company related) searches per year

per Google Analytics.
The gross profit per conversion using industry averages is $2,844 in gross profit (after commissions – A-share) per average new client assuming you just 50% of their $103,000 ($51,500) household portfolio moved to your company.
Breakeven for the year is just 8 new sales "enterprise-wide" out of the 20,000 mutual fund prospects searching our mutual fund directory site for mutual fund company information each year.
If you are like me, you just want each advertising vendor to at least pay for itself. This opportunity puts the numbers in your favor with a Break Even Point conversion rate needed of just a mere 0.05% out of 20,000 people searching for a new mutual fund company or just 8 conversions per year.
If we help you make just 19 new sales at 50% of the portfolio acquired enterprise-wide per year you will have at 200%+ ROI per year on this opportunity.

On a monthly basis, less than just "ONE" additional sale per month "enterprise-wide" more than pays for the hotlink premium service for the entire month on the defacto #1 directory website in the world in the Mutual Fund Industry (Ranked #1 from 2014 – 2018 – see below)

Perfect Branding Support in Front of Existing and Future Customers | Enhance Corporate Image in Front of your 120 Top Peers
We have your target traffic. 1,800 mutual fund customers per month X $2,844 value (gross profit) per customer = $5 million in new business in gross profit on this site per month ($7+ million in revenue each month)

Premium Advertising Service – Consider maximizing this opportunity with a hotlink (also includes, , your color logo as a hot link to your landing page, a short news 100 character message that you control instead of a random comment about your company off a newsfeed, a rotating banner advertisement and a highly ranked industry link to your website (see the key word ranking chart below.) Ask about our bonus for Q1 2019.

Link fee: $1,800 per month
In Summary
We are the defacto #1 Mutual Fund Directory in the world with 20,000 high-value unique visits a year
Your new customers, your existing customers, and your industry peers will see you …
If this site helps you make 8 new average sales per year out of the 20,000 prospects, the service has paid for itself for the year. It gets even better, this 8 new acquisition number "per year enterprise-wide" assumes you will just get half of the new customer's portfolio. Yes, the intent is to make this a no-brainer. Give this directory premium service a try in 2019.
Put your best foot forward on your industry's defacto directory
I am asking for your business for 2019. Give this advertising opportunity a try and let us earn your continued business.
How We Help Mutual Fund Companies
Mutualfunddirectory.org is the #1 ranked mutual fund directory website in the world in Google search, Bing, Yahoo and mobile search.  We have the data since 2011 to back it up. Your company needs to be here.
MutualFundDirectory.org and FemaleInvestor101.com help private mutual fund investors quickly and easily gather useful information from the companies to upgrade their investment company.
Why this opportunity | #1 Google ranking | high-value traffic | top of Funnel positioning for new clients.
Corporate PR Professionals. Mutual Fund Company Corporate Premium Link Subscribers get to actively choose and control what to promote in the comment section. Without your direction, we will add the news of the day is easiest to find. Just look at the comments.  Letting us find something on the net to put in our comments is risky since we are in front of ALL of your competitors and your prospective customers. Control your message and narrative. Just leave time for the FINRA approval process!
How to start our service?  Most company PR departments or advertising departments just advise their current advertising agency to start our service on a MTM or term basis.Simple.
Ask about our free trial offer via your existing ad agency?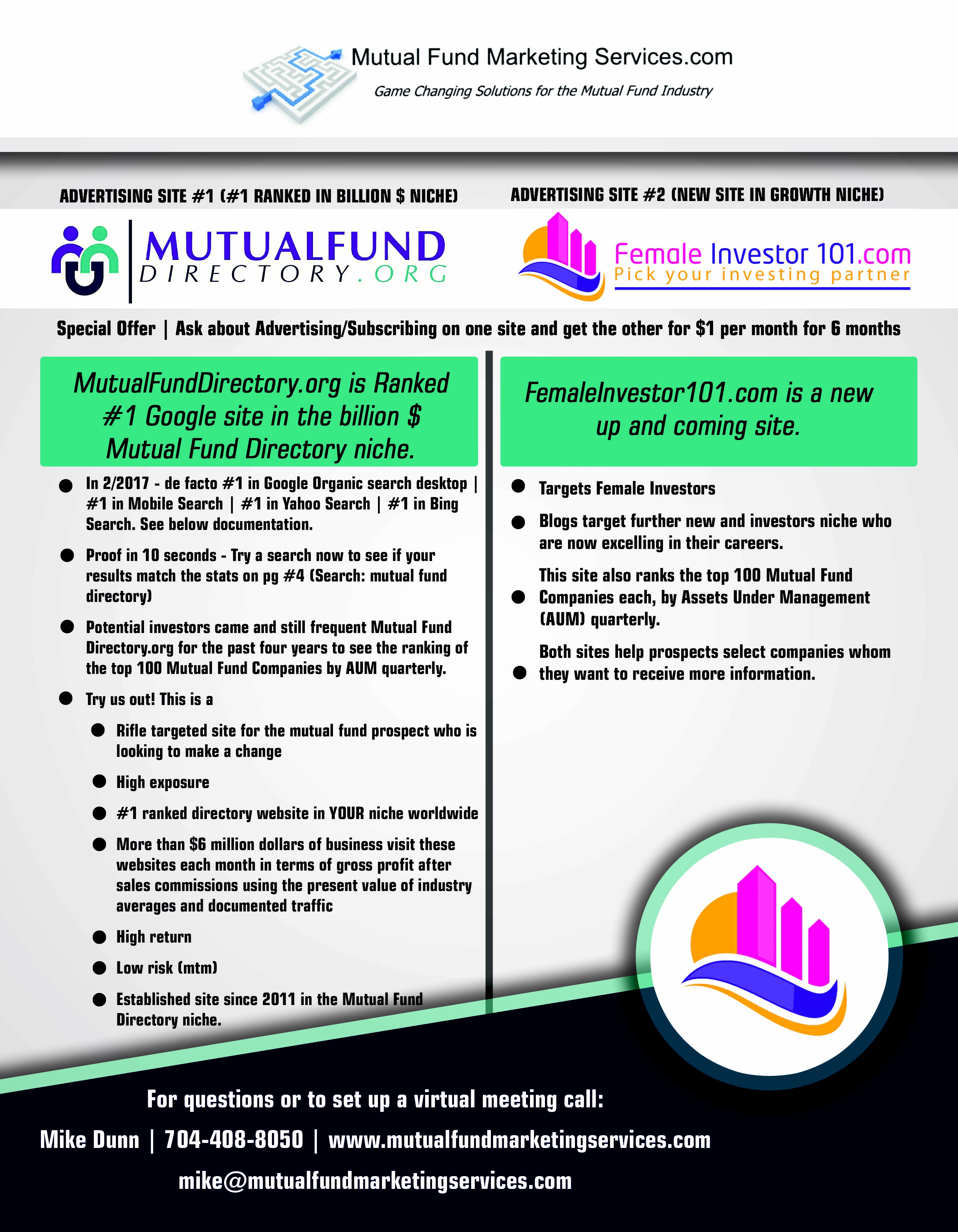 Why | Upgrade to your brand shine on the de facto #1 worldwide directory list with all your competitors in YOUR billion dollar niche.
Why | These two sites are nearly ONLY reviewed by your | future customers | existing customers (retention) | agents  | competitors | and your peers.
Why this opportunity | #1 Google ranking | high-value traffic | top of Funnel positioning for new clients.
What | Mutual Fund Directory.org and Female Investor 101.com (new) publishes the top 120 mutual fund companies ranked by Assets Under Management (AUM) each quarter since 2011.
How | Mutual Fund Directory.org is the (2014 – 2019) #1 rated mutual fund directory site in the world and has been on the front page in this billion dollar niche for four years. It is a must for mutual fund company advertisers. Female Investor 101.com is new and up and coming site addressing a key and highly profitable niche.
Why | This solution helps you move the needle to achieve your metrics at a small ROAS friendly subscription investment.
Corporate PR Professionals | Control the message that gets out to investing public and to your top 100 peer companies. I will pull news off the net for non-subscribers which may NOT be your first choice in your message. Reduce your risk and protect your corporate image from random web news.
How Much | With a conservative industry average gross profit after the commission of $2,844 per new retail customer over a 3.2-year horizon, your ROA break-even is ONLY about 8 +/- new sales per year. Moreover, your company gets exposure to thousands of retail prospects with many of which in the buying cycle or in the "coveted" self-education process.
How to give this a try | Most Investment companies instruct their current advertising agencies to start our service on a trial basis (MTM) or for a short term. Simple.
Our 2019 Special Offer | Ask about our free trial if you set this service up via your existing advertising agency
Bottom line | Helps move your needle with small subscription rate with a proportionally large impact.  Viewed by your prospects (many in the buying process) | your agents | and your industry peers.
Contact: Mike Dunn | 704-408-8050 | mike@mutualfundmarketingservices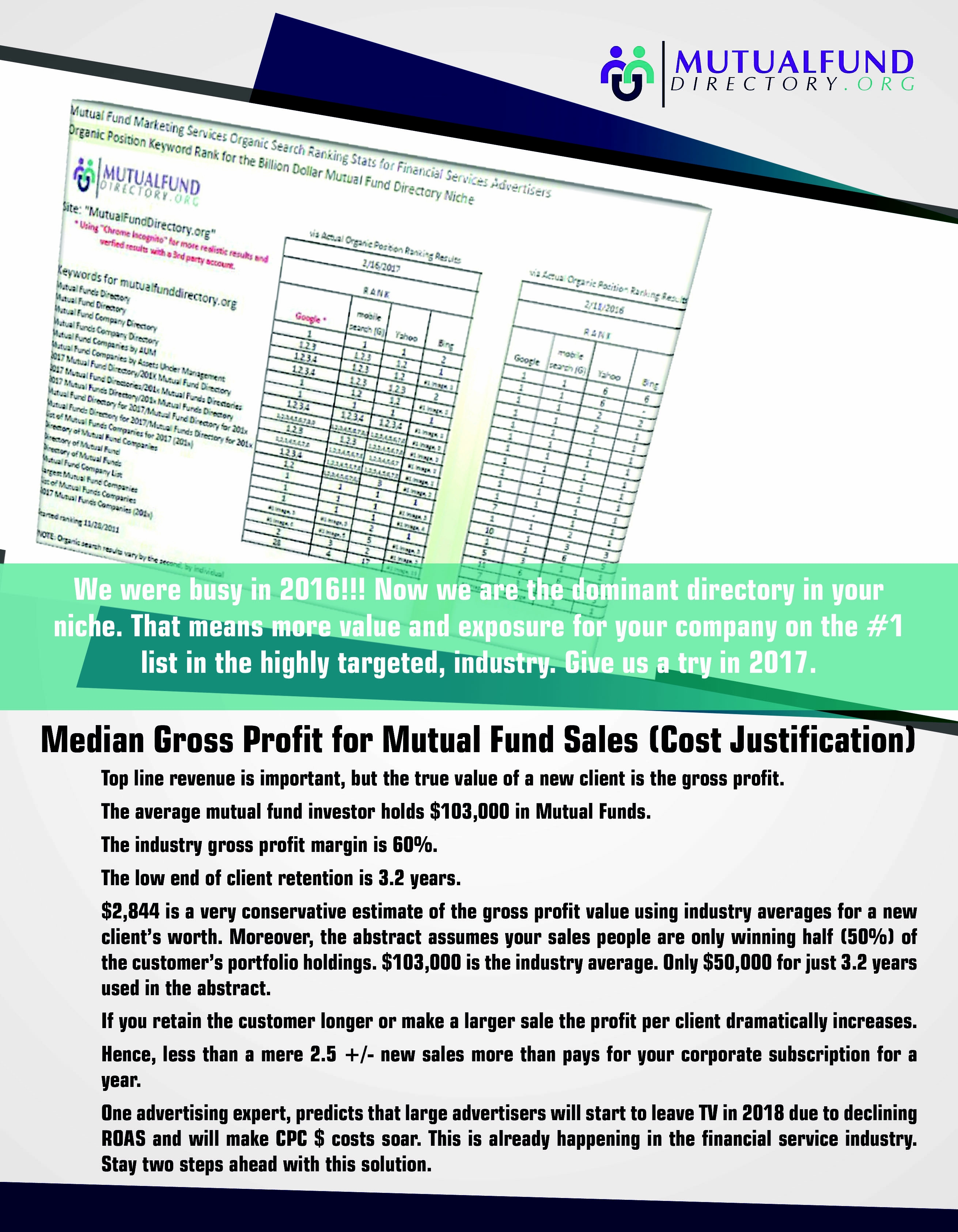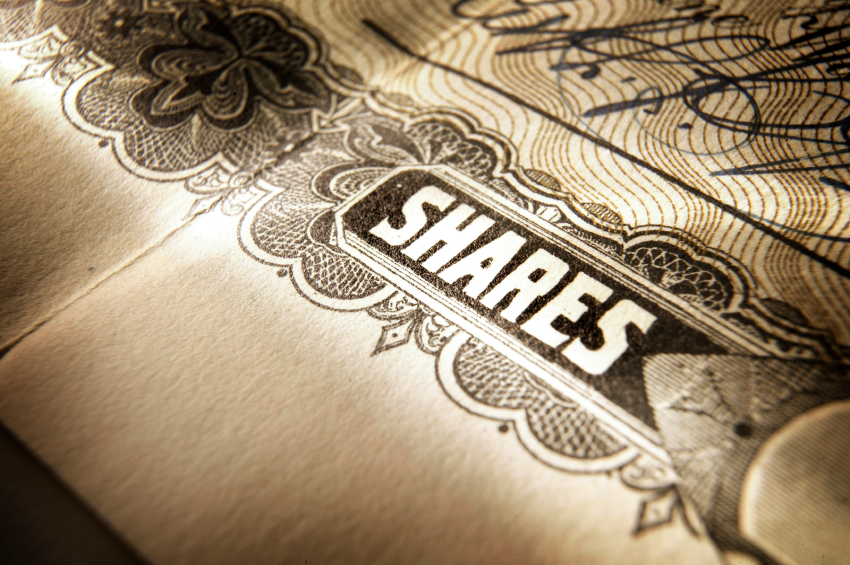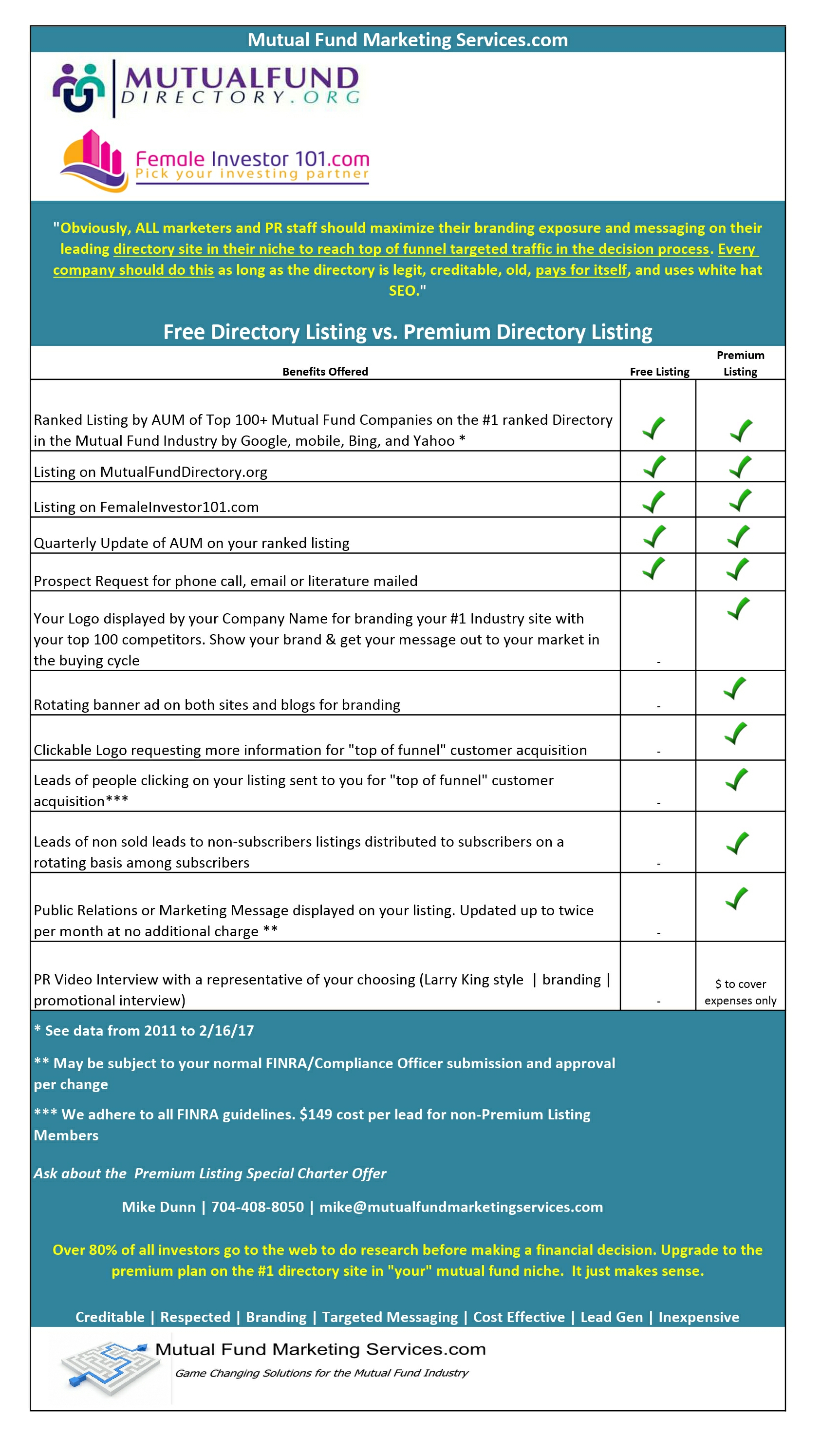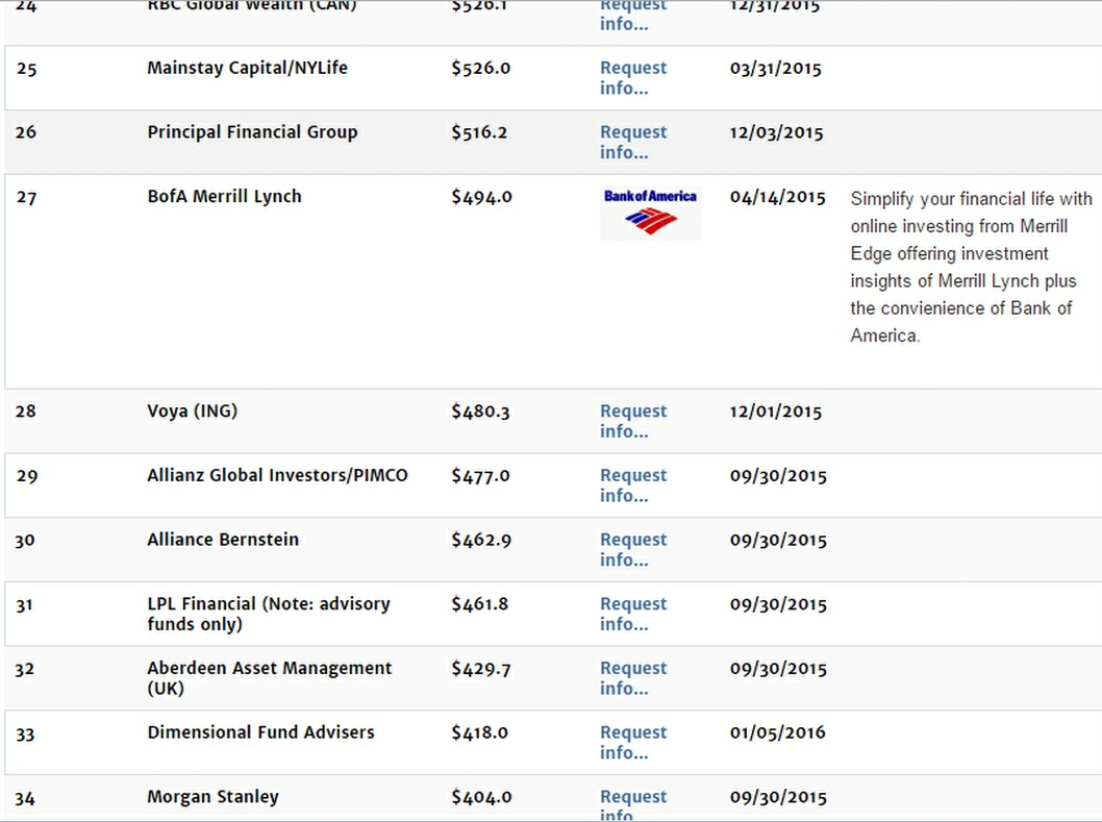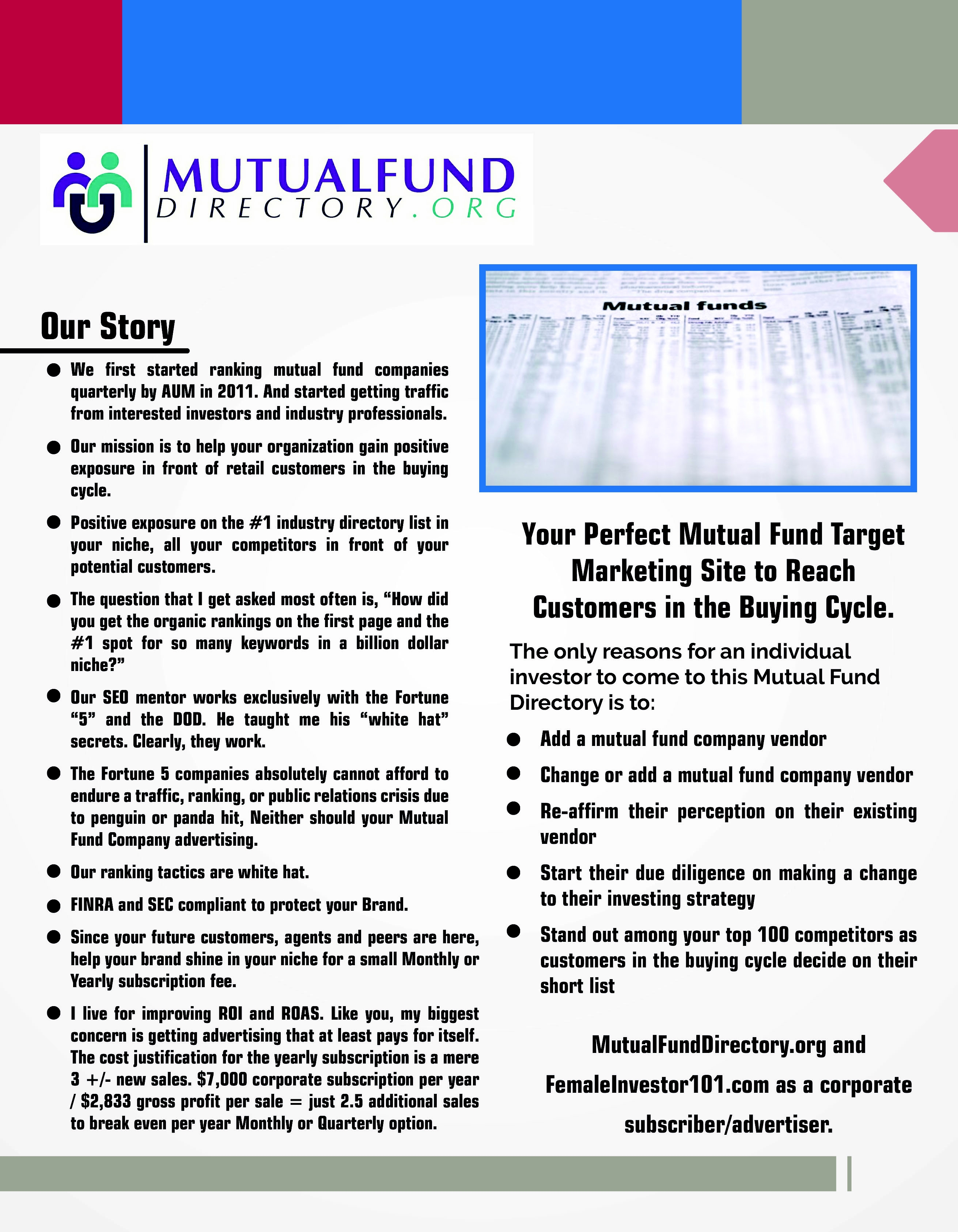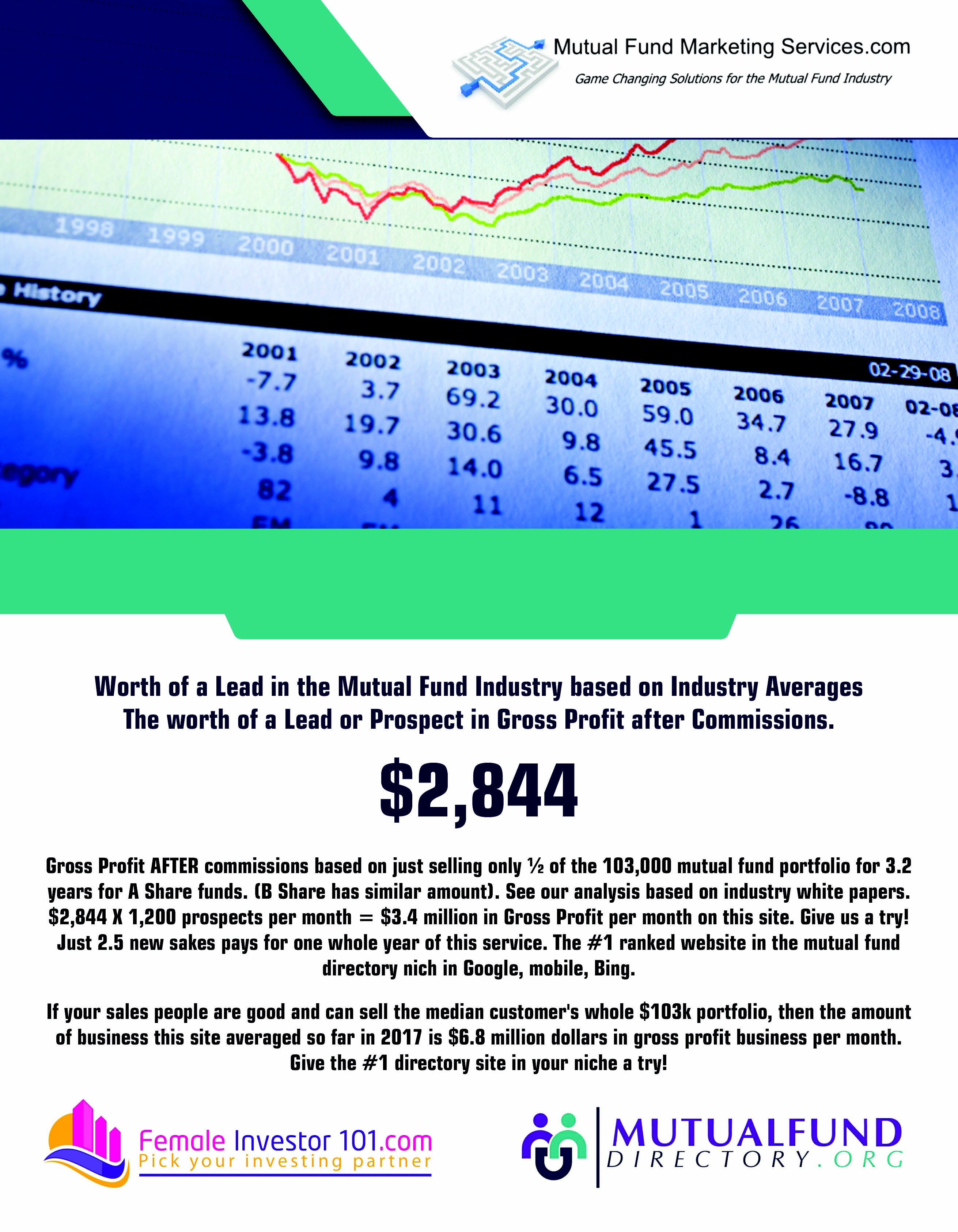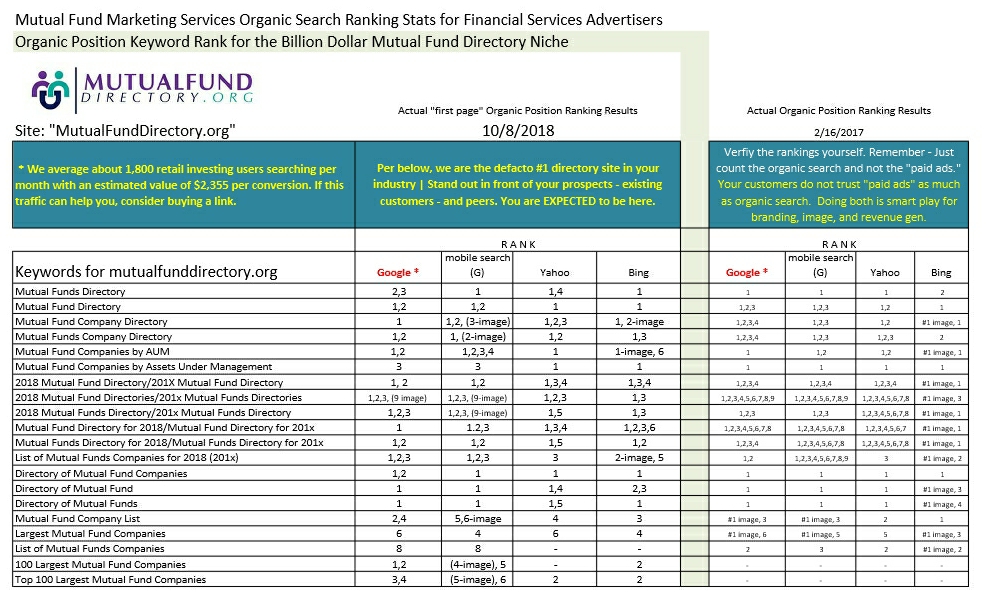 Give us a try! We want your business!
We are still the de facto #1 Directory Site in your Billion $ Niche | You need to be here
Perfect Branding Support in Front of Existing and Future Customers | You need to be here
Enhance Corporate Image in Front of your 120 Top Peers | This will Help Your Corporate Image
We are bloggers so we put up easy news from the web | PR Staff – subscribers control the message
Subscribe to MutualFundDirectory.org and get FemaleInvestor101.com included for your first term
Contact | Mike Dunn | mike@mutualfundmarketingservices.com | 704-408-8050 | Will Work Hard For You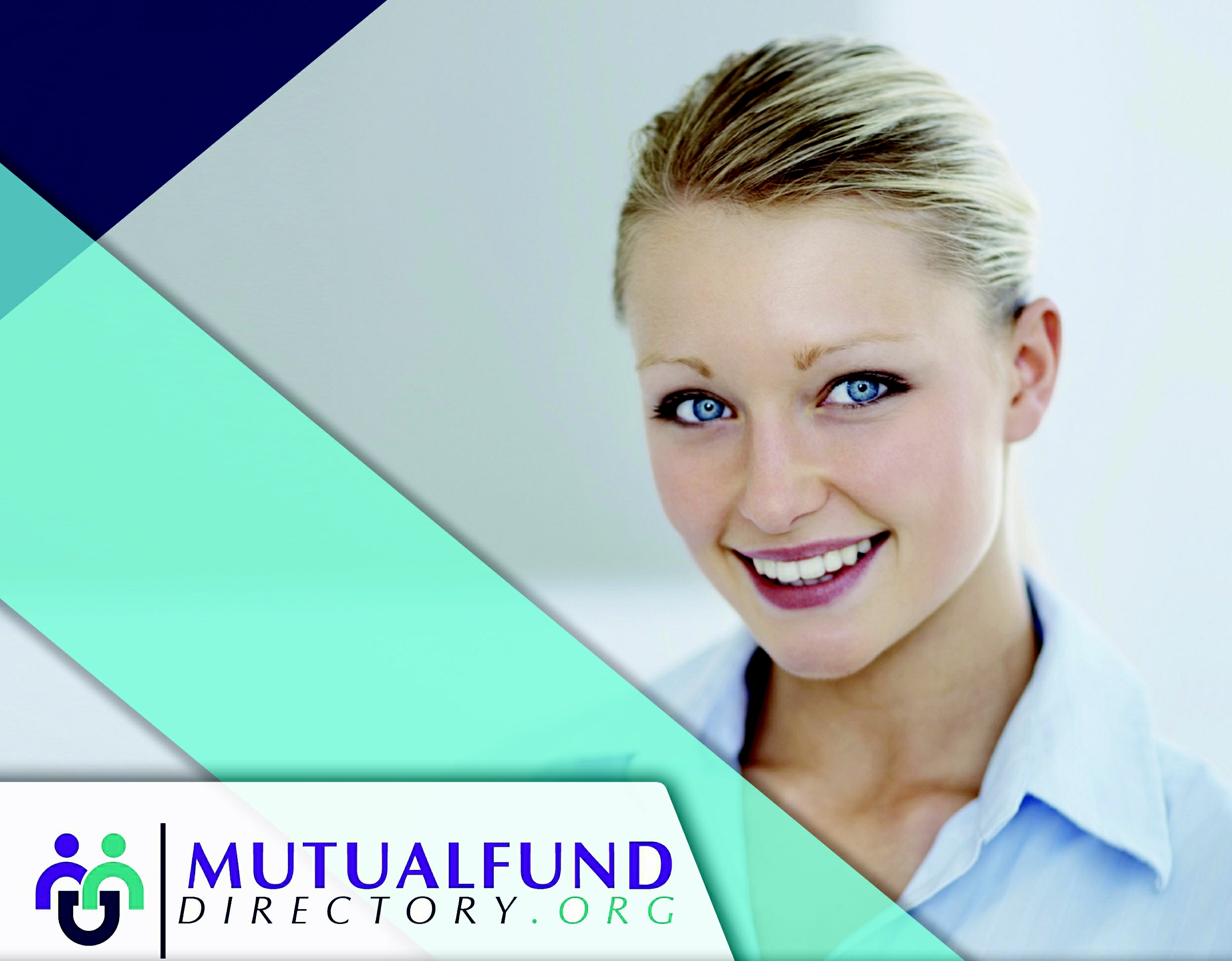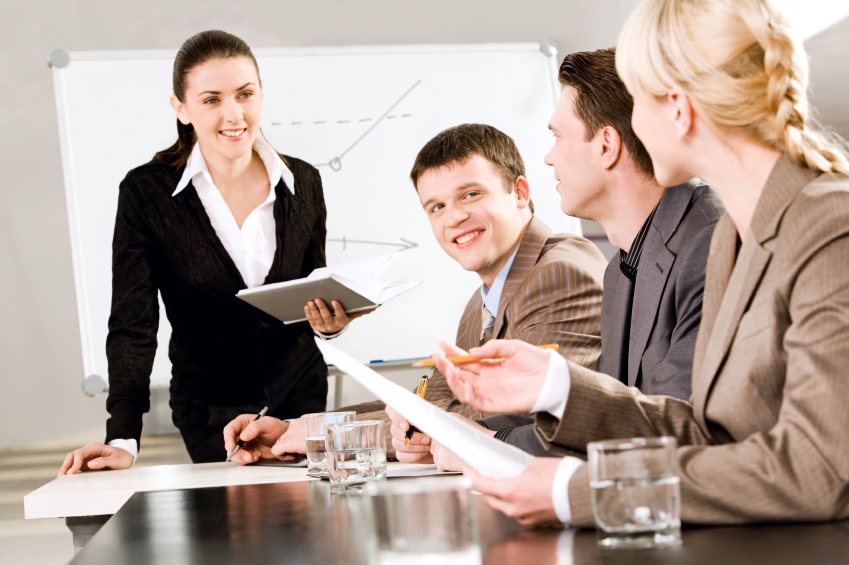 We comply with all FINRA regulations. Specifically, we do not receive nor accept compensation for purchase actions by customers. These sites promote the selection of mutual fund companies by retail investors – not the funds or other investments products offered by the companies.
FINRA regulatory notice 10-06 requires "static" messages to be submitted to the normal 10-day FINRA/Mutual Fund advertising process for banner advertisements and the 50+/- character message.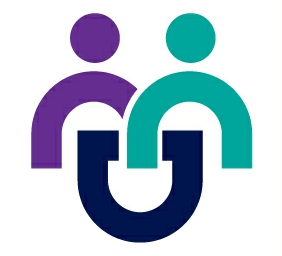 This website adheres to US Securities and Exchange Commission – Section 202(a)(11)(A)-(E). We comply with all SEC rules and regulations.